Part Number: SCANDAQ1170
Price: $2,495.00
DrewTech ScanDAQ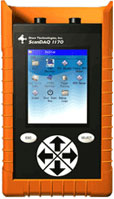 © DrewTech
J2534-1 compliant reprogramming tool with color display and diagnostic capabilities
The ScanDAQ was designed especially for the garage-environment, unlike a PDA or a laptop. It offers sealed connectors, a high-impact rubber boot, a tactile membrane keypad, and an NiMH battery pack to allow operation (~6 hours) when not connected to a vehicle. This is the ideal tool for harsh real-world conditions. ScanDAQ is the answer for vehicle diagnostics and service operations that require user-interaction.
Features
ScanDAQ is a high performance fully featured device intended for use in engineering and service environments.
324x240 color touch screen display
Compact Flash slot for expanded storage up to 4GB, 802.11 wireless, GPS, cellular modems, and more
Handheld diagnostics applications
Support for OEM J2534 reprogramming applications
Applications / Uses
J2534 Independent Repair Facility tool
Bench top ECU reprogramming
In-Vehicle ECU reprogramming
Service Diagnostics
In-vehicle data logging
Fleet or public transportation data acquisition
OEM Engineering
OEM calibration reprogramming
OEM Spill - high volume reprogramming
End-of-Line testing
Dealer Service Tools
3rd party integrated solutions
Application Notes
Specifications
Operating voltage:
0~12VDC continuous (0~30 VDC peak)
Battery operation:
~6 hours
Size:
1.8"H x 6.5"D x 4.0"W.
Operating temperature:
0 to +70° C (32 to +158° F)
Bus protocols:

CAN/ISO 15765/GMLAN
2nd CAN (Dual or Single Wire)
Ford SCP (J1850PWM)
GM Class2 (J1850VPW)
KWP2000 (ISO9141/14230)
Chrysler SCI (J2610)

Other specification:

Compliant to SAE J2534 (Feb 2002) and SAE J2534-1 (Dec 2004)
Programming voltage on J1962 pin 6, 9, 11, 12, 13, 14 or Aux
1 General purpose analog input (0-27V, 2Ksps, 12 bit)
Ground pins 12, or 15
Software Information
Included Diagnostic Software
In addition to supporting J2534 for reflashing, the ScanDAQ includes pre-loaded diagnostic software for automotive use. Screen shots are shown at actual resolution.
OBD2 Port Locator
The OBD2 Port is located in different places on different vehicles, and often times hidden under vehicle panneling.
Just power ScanDAQ up from it's battery and you can now easily locate the vehicle connector in seconds. ScanDAQ includes a quick reference guide that allows the mechanic to select the vehicle make, model, and year to quickly locate the connector. ScanDAQ will show the user either a photograph and location of the connector, or a schematic pointing to the area on the dash where it is located.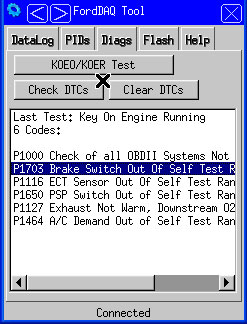 Diagnostic Trouble Code Reading and Clearing
Do you have a check engine light? With ScanDAQ's DTC Reader you can easily retrieve Diagnostic Trouble Codes from any OBD2 vehicle. Along with the DTC, ScanDAQ will also show you the VIN and Calibration IDs.
Once you have read the codes, you can easily clear them from this application. This is a quick and hassle free way to pull trouble codes out of OBD2 vehicles.
Live PID Data Logging and Recording
The ScanDAQ has a built-in PID viewer which allows you to read, display, and record live data from the vehicle. You can store up to 4GB of data by using storage in the Compact Flash slot.
The PID viewer will automatically detect and display PIDS which are available. A list of supported vehicles can be viewed by clicking here (.pdf)
Using the ScanDAQ PID viewer, you can view manufacturer supported PIDS such as RPM, Intake Air Temperature, Ignitiion Timing Advance, Engine Coolant Temperature, Long Term Fuel Trim, Short Term Fuel Trim, Speed, Throttle Position, Intake Manifold Pressure, Oxygen Sesnor, and many others, depending on the vehicle.
Other Included Programs
The ScanDAQ also has an analog input and control panel feature. The Analog input can be viewed and recorded on-screen using the scope probe application. The battery status and display settings are available from the control panel.
OEM Engineering and Testing Software
ScanDAQ was originally developed with OEM use in mind, and has since been adapted for various tasks throughout new vehicle design, development, and manufacturing. OEM Testing applications are not loaded on ScanDAQ by default, but these program can be included or customized for your specific needs. Contact us for more information.
3rd Party Software Supported
Use any PassThru (J2534) compliant application (V2, Web Flash, SPS/DPS, OEM mandated reprogramming.) Create your own applications in LabVIEW™, C or Visual Basic.
Additionally, ScanDAQ can host PassThru (J2534) applications on the internal embedded Linux processor. Use your favorite language, including: TCL, Perl, .Net, Java, or C.
Note: An application programmer interface (DLL) is provided by Drew Technologies for OEMs, integrators, or end-users to develop their own PassThru (SAE J2534) applications. Contact us for more information.
Ordering Information
View Shopping Cart
Description
Part Number
Qty 1-9
Qty 10+
DrewTech ScanDAQ
SCANDAQ1170
$2,495.00
contact us
Contact us to order
Vehicle interface cable
SD1170-J1962-FEPS
$85.00
contact us
Contact us to order