Part Number: 0840GRY
Price: $299.00
Kestrel 4000 Pocket Wind Meter

The Kestrel® Tracker is the next generation of weather monitoring. You can now measure EVERY major environmental condition, easily and accurately, right in the palm of your hand. The chart mode allows users to recall and graph up to 2,000 measurements, along with the date and time of storage. Barometric Pressure, Altitude, Density Altitude, Temperature, Humidity, Wind Speed, Wind Chill, Dew Point, Wet Bulb, and Heat Index... all in one pocket sized instrument.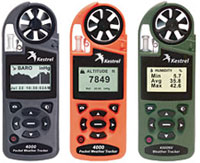 The Kestrel 4000 is also available in Safety Orange and Olive Drab colors.
Features
Current, Maximum and Average Wind Speeds
Air, Water & Snow Temperature
Wind Chill
Relative Humidity
Dewpoint
Heat Stress Index
Barometric Pressure
Altitude Please go to barometer and altitude help for more information.
Density Altitude
Wet Bulb Temperature
Graph and recall trends
Easy to read, backlit display
Time and date
Customize screens to display user-selected measurements
Flip-top impeller cover allows use of other functions while protecting the impeller (hard cases available.)
Automatically store measurements, even when the unit is turned off
Manually store measurements with the press of a button
Chart up to 2,000 measurements
Impeller can be replaced without tools
Exterior temperature, humidity, and pressure sensors for fast and accurate readings
Humidity sensor can be recalibrated in the field with the Relative Humidity Calibration Kit
Includes neck and wrist lanyards, protective pouch and 2 AAA batteries
Waterproof and floats.
2-year warranty
Assembled in the USA
US Patent Nos. 5,783,753 and 5,939,645 and 6,257,074
NV Version for night-time activities

The Kestrel 4000NV was improved to be even more suitable for night-time activities. The Kestrel® NV units are olive drab with a visible red backlight, which helps sustain the user's natural night vision. Military personnel and pilots flying in darkness are often concerend with preserving their night vision.
It takes 30 to 45 minutes for the average eye to adapt to darkness and maximize night vision. Even a short burst of white, yellow, green or blue light "bleaches out" the rod cell photoreceptors in the eye and causes night blindness until the entire adaptation process can take place again. Light in the red spectrum does not cause this "bleaching out", preventing night blindness and night vision fatigue. The units' red backlight is also much dimmer than a standard backlight, making it more difficult to detect with the naked eye in night operations.
More Information
Ordering Information
View Shopping Cart
Description
Part Number
Qty 1-9
Qty 10+
Kestrel 4000 Pocket Weather Tracker - Dark Grey
0840GRY
$299.00
contact us
Contact us to order
Kestrel 4000 Pocket Weather Tracker - Safety Orange
0840ORA
$299.00
contact us
Contact us to order
Kestrel 4000 Pocket Weather Tracker - Olive Drab
0840OLV
$299.00
contact us
Contact us to order
Kestrel 4000NV Pocket Weather Tracker - Olive Drab - Night-Time Version
0840NV
$319.00
contact us
Contact us to order
Optional Accessories
Kestrel 4000 Interface-USB Port
0804USB
$99.00
contact us
Contact us to order
Kestrel 4000 Interface-Serial Port
0804SER
$79.00
contact us
Contact us to order
Kestrel 4000 Carry Case
0805
$19.00
contact us
Contact us to order
Kestrel Replacement Impeller
0801
$19.00
contact us
Contact us to order
Kestrel portable tripod with black carry pouch
0807
$25.00
contact us
Contact us to order
Kestrel Portable Vane Mount
0791
$59.00
contact us
Contact us to order
Kestrel RH Calibration Kit
0802
$79.00
contact us
Contact us to order