Part Number: STATE101
Price: $99.00
MadgeTech State101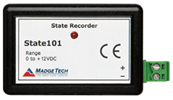 The MadgeTech State101 is a single channel state datalogger with a screw terminal input. It records time and date stamped "ON" and "OFF" state changes for equipment run-time, usage and event duration data. It can be used with dry contact relay switches or analog voltage input signals to determine changes in status and "open" / "closed" contacts. Some typical applications for state recorders include the montoring of a furnace, air conditioner or pump turning on and off or even how long a door is left open/closed.
The State 101 records a time-stamped value whenever a state of the input signal changes. It samples the input at a user specified time interval and records to memory only if the state had changed from the previous sample. This efficient method of writing to memory maximizes the length of time the device can record.
A MadgeTech software and cable kit is required for operation. The easy-to-use MadgeTech software features enhanced tools like the use of engineering units, digital calibration, and automatic export to MS Excel.
Application Note: Differences Between State, Event and Pulse Recorders
Specifications
Input Range:
0~12 VDC continuous; 0~30 VCD peak
Input Low:
<0.4V
Input High:
>2.7V
Internal Weak Pull-Up:
<500µA
Recommended Duty Cycle for Inputs Greater than 12VDC (over 1 minute interval):
18V:<50%,24V:<25%,30V:<10%
Resolution:
1 second
Channels:
1
Memory:
13,107 states
Sample Rate:
1 second up to 12 hours
LED Indicator:
Red
Required Interface Package:
IFC110
Baud Rate:
2,400
Typical Battery Life:
1 year
Operating Environment:
-40~+80°C, 0~95%RH non-condensing
Material:
ABS plastic
Dimensions:
1.4" x 2.5" x 0.6" (36mm x 64mm x 16mm)
CE Approval:
Yes
Weight:
1oz.
Ordering Information
View Shopping Cart
Description
Part Number
Qty 1-9
Qty 10+
Data Logger
MadgeTech State Recorder
STATE101
$99.00
contact us
Contact us to order
Software and Communication Cable (One required)
MadgeTech Software and RS-232 Interface Cable Kit
IFC110
$99.00
contact us
Contact us to order
MadgeTech Software and USB Interface Cable Kit
IFC200
$119.00
contact us
Contact us to order
Optional Accessories
Extra / replacement 3.5V, 750 mAH, Lithium battery (square)
LTC-7PN
$18.00
contact us
Contact us to order